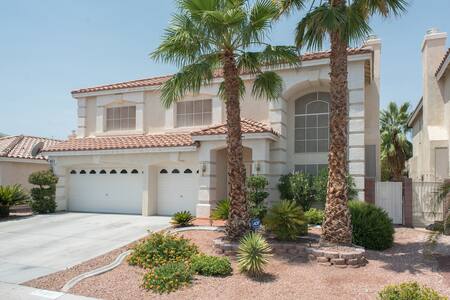 SUPERHOST
E gjithë dhoma e miqve · 6 vizitorë · 3 krevate · 2 banja
Beautiful home in perfect location.
**Important** Please keep in mind there is no full kitchen available. This rental only contains a kitchenette It does not include a stove top, oven, or sink. Also, there is a separate entrance through the garage which leads to a different section of the house. This is a part of the house located on the first floor where the owners stay when they are occasionally in town. Note this is completely separate from the guest area.
This is a 540 sq ft Vdara suite, comparable to a hotel room at Bellagio, Aria, or other units at Vdara. The pictures are of my actual unit. This is my personal condo that I live in when I'm in Vegas, but it has the feel of a hotel room. I don't leave any personal belongings out. Local law requires that the primary guest be age 21+.
OPEN TO ALL GUESTS! As facilities reopen, The Signature staff and our professional cleaning service are following steps recommended by the Southern Nevada Health District to reduce any further transmission in our communities. They are also following CDC guidelines including wearing disposable gloves, gowns, and masks for all tasks in the cleaning process, including handling trash. THE CLEANING FEE COVERS CLEANINGS CONDUCTED BEFORE AND AFTER YOUR STAY ONLY. Daily cleaning is available for a fee upon request. As service at the Signature has only just resumed at this time we do not know what amenities are available. It is recommend that guests get in touch with the concierge about what amenities are available as this may change daily. They can be reached at 702.797.6016. It is also recommended to bring a mask as different establishments will have different regulations. Welcome to your very own 500+ square feet of MGM Signature! Located on the 32nd floor of Tower 2, this unit has everything you need. When you arrive, enjoy free valet parking. After settling in, walk out onto the balcony for a coffee in the morning or enjoy a jacuzzi after a long day! All pictures of the unit are accurate and taken by us, so you can trust that you get what you see! If you look at the reviews from previous guests, you'll see that the views are incredible.