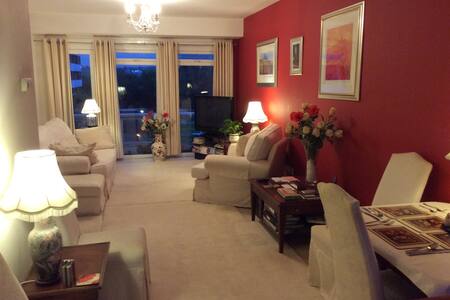 Dhomë private · 1 vizitor · 1 krevat · 1 banjë e përbashkët
5/8 min.NR.CITY / UNI . PRESTIGIOUS LUXURY Apt.
Double W. Robe,Table lights on side tables with draws. double bed for ....SINGLE ....occupancy only ...suitable for longer stays for students. 5 mins from university and city by regular bus service every 15 mins scheduled. In a very exclusive, prestigious, residential area, safe, very respectable, Quiet. Smoke detectors 4 in number fitted to main living areas . Recent update to fire safety out to the main building. The hot tub is a Victorian bath as in the pictures there is a separate shower.
This beautiful room will suit couples and singles alike. Nicely decorated. Very clean and very comfortable and a cosy bed. With your own en-suite shower room. This is a compact room but very comfortable. Coffee and Tea, toast and some cereals available for breakfast. Check-in 3-7pm only unless pre-arranged. I am very LGBTQ friendly. If the dates you want look booked, email me, I may not have released them for booking. Especially if you are looking for a longer stay. I'm happy to help.
Single bedroom within a 3 bedroom, one study semi detached house. Large open plan living room. Kitchen and utility/laundry. Sunny conservatory onto south facing private garden. I and jack russell with one friendly cat are ready to welcome you. We have on street parking with permit for your vehicle. One mile from metro transport into newcastle or the coast. Local pubs and restaurants with lidl and aldi very closeby. Free wifi and DVD tv in room.